There will be a few changes at the tree farm this year.
We want to try and keep you and our staff as safe as possible during the current pandemic.
We will not be offering hot chocolate this year.  Please feel free to bring your own thermos of hot chocolate to enjoy.
The Santa House will only be used to "Pay and Go".    We ask that only one family member come into the Santa House to pay and there will be a limit on the number of people allowed in the Santa House at one time.   Hand sanitizer will be available for you to use before you pay.   Please be patient as you wait your turn to pay and be mindful of social distancing.
Hand saws will be sanitized after each use.  Please return your saw to the "Dirty Saw" bin so our staff can sanitize them before the next customer uses it.
We will still have few "photo ops" available for you to grab that special picture.   At these photo ops please be mindful of social distancing.
Kids please bring your letters and lists for Santa to drop off at our new "Kids Stand".  You can then take a treat bag for yourself!  Parents-the new "Kids Stand" will be a wonderful new photo op for kids only!
Santa will be at the farm this year!  He will not be in the Santa House but he will be making special appearances out in the tree fields!  At the top of the hour he will be out and about in a UTV to wave the children and wish them a Merry Christmas!  Special appearances start at 10:00 am and will continue at the top of the hour until 3:00 pm, the last run of the day.
Check out our Facebook page or website before you come to the farm to see if there are any changes that may affect your visit.  As we all know things are changing constantly and this will be the best way for you to stay informed.
---
We are a family owned and operated tree farm since 1988.
We offer potted landscape trees, wholesale and retail Christmas trees and the family favorite "choose and cut."
We offer many varieties of Christmas Trees.
Our prices are for any size tree.
Heights range from 5 to 12  feet. Pre-cut table top trees are available at a discounted price.
Cut your own prices 12 foot and under $50-$60
Pre cut prices $20 to $40, sizes range from 5 foot to 7 foot
Cash and check only
No debit/credit cards accepted
Come visit Santa on any of our open days from noon to 3:00 pm
Enjoy free hot chocolate 
Chili Sale December 3
Fund raiser for Clintonville Area Ambulance. 
We offer FREE shaking of your tree! Bailing of your tree is available also.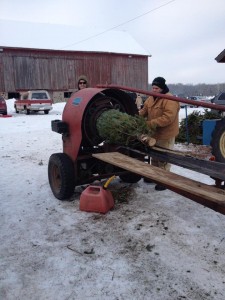 We offer three sizes of wreaths, lengths of fresh roping, boughs and kissing balls!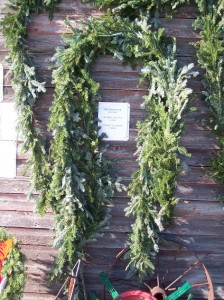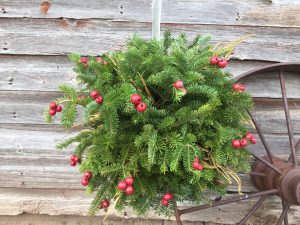 We provide hand saws for you.
Please DO NOT bring any chainsaws to the farm.
Pets on a leash are always welcomed.
Directions: Located 11 miles North of New London, Wis.
Off of Hwy 45, then 2 miles West on Silver Creek Rd.
WATCH FOR THE SIGNS!
Map: Click Here!